Disclosure: I was paid a nominal sum for sharing and reviewing these podcasts with you. All opinions are my own.
In our world today we have just about everything at our fingertips. We can give our kids our smart phones or tablets to entertain them. Kids today are glued to the television or some form of technology. When Hazel was young we started her at a Waldorf school. One of the things I loved about the Waldorf philosophy was the no technology rule. They actually took it even further for the younger kids. They encouraged storytelling without books or with wordless books. The philosophy believed that preschool kids' bodies were developing so fast at that time that the body should be allowed to do its growing without the burden of trying to work to learn letters and words. The art of storytelling seems to be gone especially during this pandemic. However storytelling is important for our kids' development. From stories kids learn virtues and good character especially from stories that demonstrate it. Kids will often copy the behavior they see or hear about. This is why we turn to fairy tales over and over. The basic tales have good overcoming evil over and over again. The honest, kind, good people are rewarded while the dishonest and cheaters are punished or lose.
Another benefit of storytelling especially without a book is developing good listening skills. A child has to sit and listen to the story. This will help them when they are in school and have to follow society's rules for behavior. Also without the pictures their imaginations will grow. They get to envision the story on their own. It also helps develop their memories. And storytelling can help them prepare to learn and succeed in an academic setting. It also teaches social skills including patience and often kindness and other good character traits. (Source) All of these are the reasons I fell in love with storytelling when Hazel was young. Plus I remember having fairy tales on cassette tape when I was young along with books to read along. I loved those tapes and books and listened to them all the time even before I could read along. The stories were great but so was the telling of them. When Hazel was younger I bought several CD's from a storyteller. She loved those stories. We would listen to them in the car and she would also listen to them in the mornings so I could sleep in. Now she is fascinated with fairy tales--she just reads the more grown up books with the fairy tale characters in them as well as is writing her own "books" about them.
Today I get to share with you an amazing new version of storytelling. These podcasts share classic fairy tales with twists and humor. The entire family will enjoy them. Plus there are Hidden Heroes in History stories that share about real people and their lives. Some you may have heard of and other you may not, but I assure you, you and your kids will learn a bit of history and often they are people in STEAM lines of work.
Dorktales Storytime Podcast is not only a breath of fresh air, but it is also a super-fun way to keep young learners engaged, entertained, and learning during challenging times.
Jonathan Cormur is the host (and storyteller) of this fun podcast for kids that features: 1) Dorktales--geeky retellings of classic fairy tales with pop culture easter eggs in every story. 2) Hidden Heroes of History--real stories about people you probably never learned about in school but who have changed history in ways we could have never imagined.
Think Fractured Fairy Tales meets Big Bang Theory and the History Detectives!
In Dorktales Storytime Podcast, Jonathan is joined by his plucky puppet sidekick, Mr. Reginald T. Hedgehog (or "Mr. Redge," if you prefer) to tell goofier versions of tales that have delighted kids for generations. The shows are suitable for preschool and early elementary school ages and are an excellent way to keep kids engaged and learning while having loads of giggles and entertainment.
Dorktales Storytime PODCAST is AVAILABLE ON: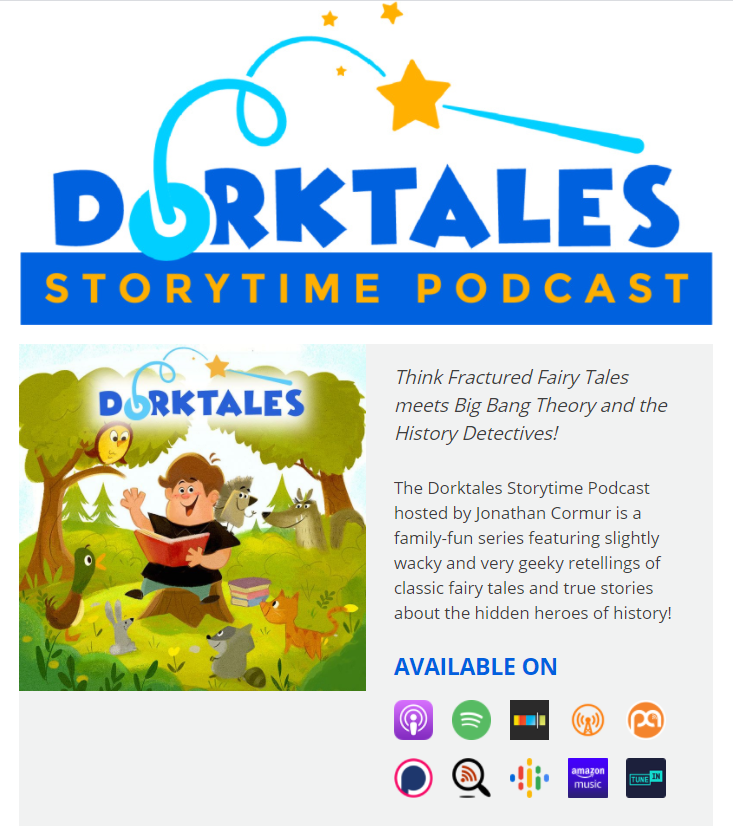 My Review: