Disclosure: Leisure Arts sent me a copy of this book in return for an honest review. All opinions in this post are my own. I did not receive any other compensation for this review. The links are affiliate links where I will receive a small percentage of any purchases made through them at no cost to you. Thank you for supporting Crafty Moms Share!
Today I am going to share with you the amazing Mini Maker Kits from Leisure Arts, Inc.. I was sent three to try out and have been having so much fun with them. There are a huge variety of them but the kits have what you need to make the project and they are smallish projects so they are pretty easy to complete in a reasonable amount of time. Therefore these kits are great for making your own holiday gifts as well as for gifting to those on your list who love making crafts. They truly have something for everyone from embroidery, knitting, macramé, paint pouring, felt crafts and more. And the best part is they come with everything you need to make the craft!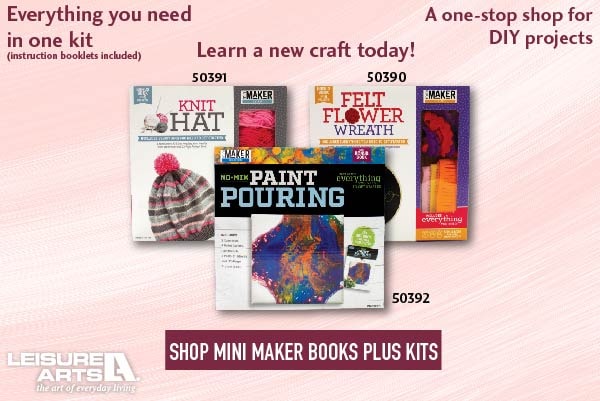 The first kit I started with was a Mini Maker Stitchery Kit. I was sent the Wildflowers kit (the one to the right of the center kit). As you can see they have quite a variety of stitchery kits.
I have not done this kind of embroidery in a long time. My mother used to have a book of iron-on designs that we could pick from and make work like this. This kit is bringing back great memories for me. I am still working on it.
I had a few issues thus far. First I broke two needles doing it. I may make my satin stitches a little too thick and close together. I also ran out of the dark teal but had some close that I could use in my own supplies. I need to pull it out some more so I can finish this cute piece.
Next I started working my Mini Make Macramé Kit. I was sent the Plant Hanger Kit. It comes with everything you need except the plant. I added the air plant I reviewed several years ago.
I made a few mistakes in mine since it has been a very long time since I have done this kind of macramé. I misread the instructions and did not tie the correct strings to make it connect in a circle. Looking at this photo made me really realize what I did incorrectly. I may go try to correct it.
My final kit is the Mini Make Paint Pouring Kit. This kit comes with everything you need to get started. I did go out and buy the suggested silicone oil as well as some wooden discs just to have more surfaces to try it on. I was so excited for this. I have been seeing beautiful pieces of art done this way and have been wanting to try it. This kit was perfect to give it a try since it really has everything you need.
I have been waiting to have Hazel try this one with me, but she never seemed to want to when I had time so I tried it while she was at school. I did leave her one of the canvases as well as some of my wooden circles for her to try too.
I mixed the fuchsia and blue to make the purple before I did the pour. Then after I added a few drops of blue because it got blended too much. I am loving how it is coming out. Now I have to let it sit and cure for a week or so. I used some of the excess paint to cover the first two wooden circles. Some of this was dragged on and scraped onto it but I found it was thick enough to swirl around like the pour.
I am thinking I will drill a hole into these and make them into ornaments. I think they will be beautiful on
the tree. I wanted to try some other techniques as well as use the yellow paint too. Since I am saving the other canvas for Hazel I did two more wooden circles.
I love how the paint pour comes out. Each one is its own unique style. The yellow paint was on the bottom of my cup so the second one got more of it.
I can't wait to see what Hazel does with this paint pouring kit. It was fun to do and the art is beautiful but it is not really our style for decorating so I don't see us doing much more. I am so glad I got to try it though.
So if you are looking for some easy crafts to grab and do or to gift, these Mini Maker Kits are perfect. They come with what you need to just get going. I hope you will check them out.