Now Hazel and I frequent our local Gymboree store often. Someone Steve graduated from high school works there and through our visits to her we have gotten to know basically the whole staff. Hazel feels at home there and loves to go in to see if there is anything new in stock. She loves their clothes and has quite a few. A couple of weeks ago we noticed the Starfish Wish Two-Piece Short Pajamas .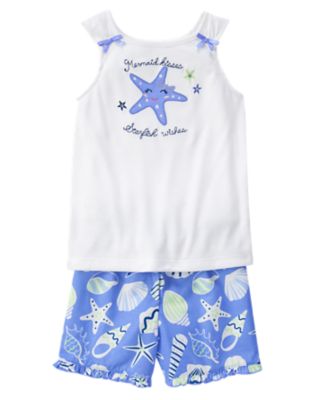 Starfish Wish Two-Piece Short Pajamas
Hazel loves them, but wanted them to say sea star instead of starfish since she learned that they are not really fish. So I came home and made her a printable with sea star in it instead. I am going to share several versions of the printable with you. To download it in pdf form, just click the picture. Please use them only for personal use!
This one is made with pictures of our own artwork: our Creative Mermaid Craft and our Starfish and Sand Dollar Wreath for a Touch of Summer. The page itself was created in My Memories Suite.
This one is Hazel's favorite. I am planning on framing it for her and hanging it in her room. The mermaid is from Sweet Clip Art and was submitted by Liz Aragon. The sea star is from the Print Shop 23 program. This one was made using the Print Shop 23 Program as were all the rest.
All the graphics in this one and the next are from the Print Shop 23 disc.
The next two have graphics from The Graphics Fairy: Beautiful Mermaid Graphic and Starfish. I played with the color a bit on them.
And with a white background.
Now when the new pajamas went on sale last week for $12.99, I let Hazel chose a pair. She struggled between the Starfish Wish Two-Piece Short Pajamas and Always Unique Shortie Two-Piece Gymmies®, but her love of flamingos won out. They say "Always Unique" and let's face it, Hazel is definitely unique!
She loves Gymboree pajamas and almost exclusively sleeps in them! I find they last a long time and she loves the designs!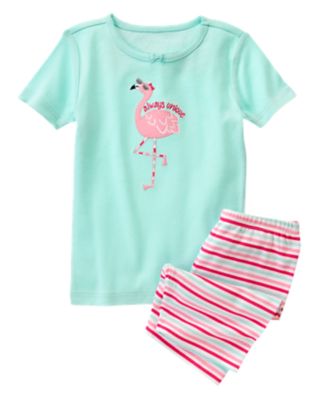 Always Unique Shortie Two-Piece Gymmies® - $12.99
100% cotton rib. Snug fitting. Easy pull-on style bottoms. Features appliqués with embroidery. Picot trim with satin bow. Machine wash; imported.